Awards
Bill Wilson Center receives many local, regional and national awards recognizing our success helping homeless youth transition their lives off of the streets. Included is sampling of some of the honors that Bill Wilson Center has received for our work.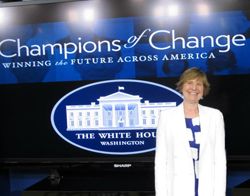 The White House honored Sparky Harlan as a Champion for Change in 2012 for making a significant difference in the way communities combat homelessness among children and youth.
The Champions of Change program was created as a part of President Obama's Winning the Future initiative.
Additional recognitions include:
• 2015 Women Moving Forward - Multi-Ethnic Sports Hall of Fame, Key Point Credit Union, The City of Redwood City
and the Domini Hoskins Black History Museum in association with the NFL Alumni, Inc
• 2012 Mover of Mountains Award – Dr. Martin Luther King Association of Santa Clara Valley
• 2012 Community Service Award (Provider) – Santa Clara County Mental Health Board
• 2011 Human Relations Commission Award – Santa Clara County Human Relations Commission
• 2011 Partner of the Year Award - Job Corps
• 2010 Outstanding Agency Administrator Award - National Safe Place;
• 2007 Executive Leadership Award of Excellence - National Network for Youth
• 2006 Community Partner in Success Award - Volunteers In Parole Mentors
• 2004 National Best Practice Model - Bill Wilson House - Federal Runaway and Homeless Youth (RHY)
• 2004 Youth Development Award - Western States Youth Conference
• 2004 LACY Honors Award - Legal Advocates for Youth
• 2003 Project Cornerstone Award – YMCA
• 2001 Lifeline Award - San Jose Magazine
• 1998 STAR Award - United Way
• 1993 CREST Award - City of Cupertino
• 1989 Vida Award - United Way (first recipient)